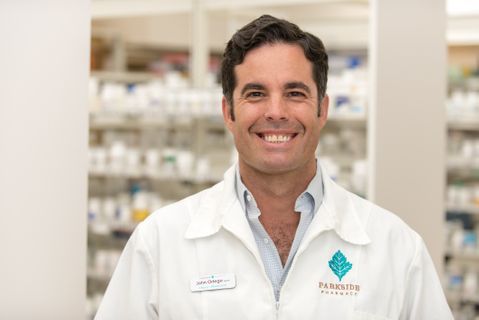 John Ortego, Pharm.D., Pharmacist/Owner
A Sacramento native and 2006 Doctor of Pharmacy Graduate from University of the Pacific, John hopes to carry on in the tradition of the independent pharmacists who served in the Land Park neighborhood before him.
Michelle Ortego, Medical Aesthetician/Owner
Michelle Cohan Ortego was raised in Sacramento, Ca. Michelle attended CSUS and graduated with a B.A. in Psychology in 1996. Longing for a career in the world of health and beauty Michelle switched directions and received a license as an esthetician in 1998.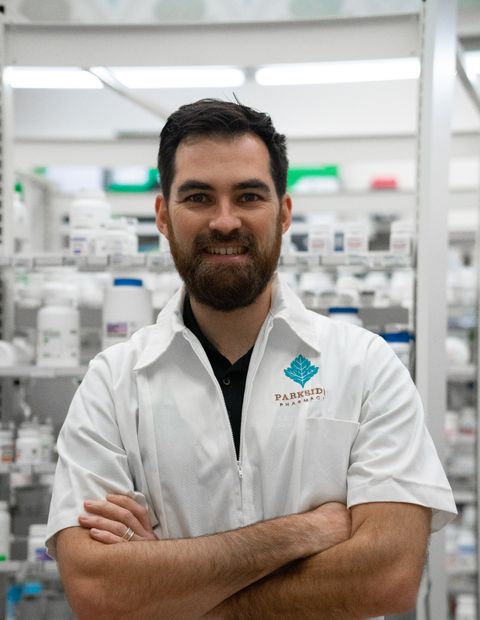 Alex Cavalari - Pharm.D.
Alex is also a Sacramento native, and loves working at Parkside in Land Park because of the rich history. He is proud to follow family tradition as a third-generation pharmacist, always saying "I was born in pharmacy". Alex tries to balance his extracurricular time in his passions - youth ministry, pie baking, hunting, fishing and the great outdoors!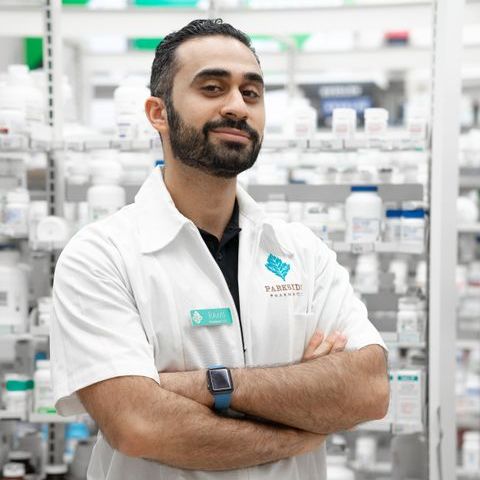 Rami Almilli, Pharm.D.
Rami is an international pharmacist who graduated pharmacy school in Iraq 2007. He has been working in the field of pharmacy ever since in various capacities, including, but not limited to, regulatory affairs. Rami moved to the U.S. in 2016, and has recently become licensed to work as a pharmacist in CA. Pharmacy is his long standing passion, and he is determined to continually learn and develop his knowledge and skills. His passion stems from the drive to provide the best patient care by being an accessible health care provider and liaison between physicians and patients. At Parkside Pharmacy, Rami feels he has found the perfect opportunity to advance his career. Parkside Pharmacy is "the most perfect pharmacy in terms of providing the best customer service through optimal quality of care and medication education because of its superior workflow, processes, and excellent teamwork!". Away from work, Rami plays goalkeeper on his soccer team every week. He also enjoys exploring different restaurants and ethnic foods.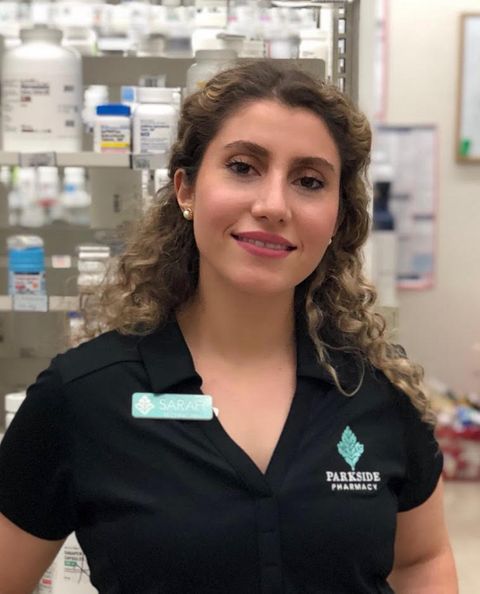 Sarah Maleh, CPhT
Sarah has been a certified pharmacy technician since 2015. She graduated from Sierra Community College with an AS in Biology/Natural Sciences. Now she is a 4th Biochemistry/Biomedical student at California State University Sacramento furthering her education to become a compounding pharmacist. Sarah hopes to make a difference in the pharmaceutical industry. During her free time, she scribes for urgent cares on Sundays, travels with family, and on occasions you'll find her shooting arrows at an archery range.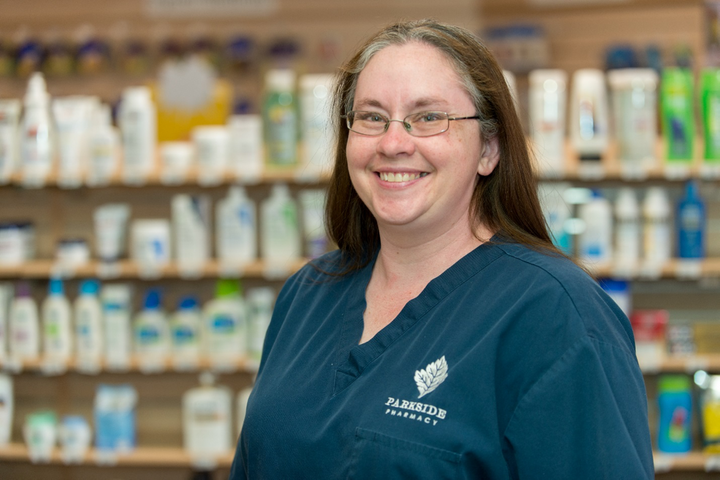 Stephanie Farnworth, CPhT
Stephanie did a technician externship at Parkside in 2010 and was hired on immediately after its completion. Stephanie is our Quality Assurance 0fficer, which makes her responsible for assisting the Pharmacist in Charge with making sure the entire compounding process adheres to the standards detailed in the policies and procedures mandated for PCAB Accreditation. She enjoys compounding "because it gives me the opportunity to continuously learn new and better ways to serve our clients". When not at work, she is busy with her 2 children and Cub Scouts, Girl Scouts and dance rehearsals.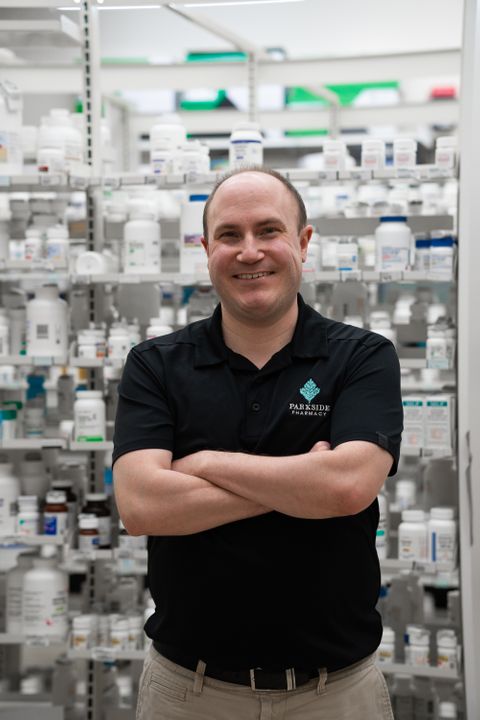 Eric Sanderson, CPhT Patient Care Coordinator
Eric started as a pharmacy clerk in 2005 at the old Land Park Pharmacy and has been working in pharmacy ever since. He completed his BA in Journalism at Sacramento State and became a Certified Pharmacy Technician in 2010. His favorite part about working in the pharmacy field is "helping to take care of our customers' health and well-being". Eric is also an accomplished filmmaker in his spare time.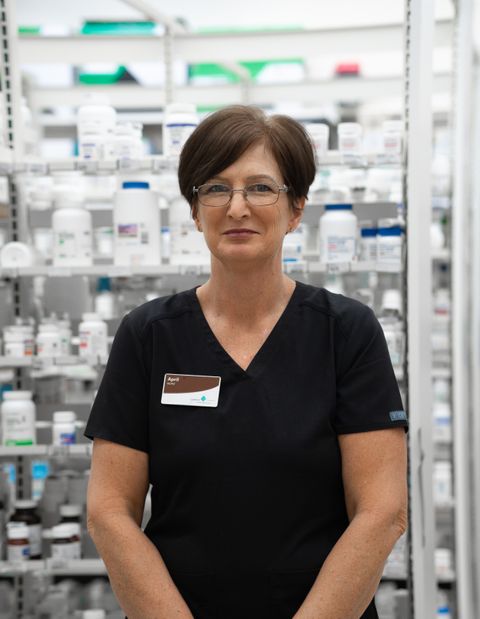 April Gautschi, NCPhT
April finished her Pharm Tech program in 2009, and started her first compounding job at Grandpa's Compounding Pharmacy. She says "I've been compounding ever since, and I don't want to do anything else". She tried hospital pharmacy for a spell, but found compounding was really whet she enjoys. On weekends and days off, you'll see April outdoors. She's a runner with several marathons under her belt. April also volunteers her time helping disabled adults. She is our prize jewel from the acquisition of Grandpa's!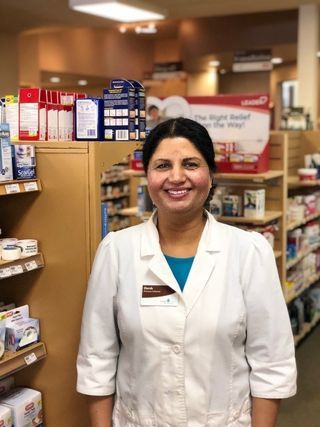 DARSH SINGH, CPhT
Darsh has been a Certified Pharmacy Technician since 2009 and sincerely enjoys caring for her patients and coworkers. A married mother of two (twins!), she still has the energy to cook wonderful Indian food, which is always a delight to the Parkside team. Darsh enjoys international travel, reading, and watching romantic films.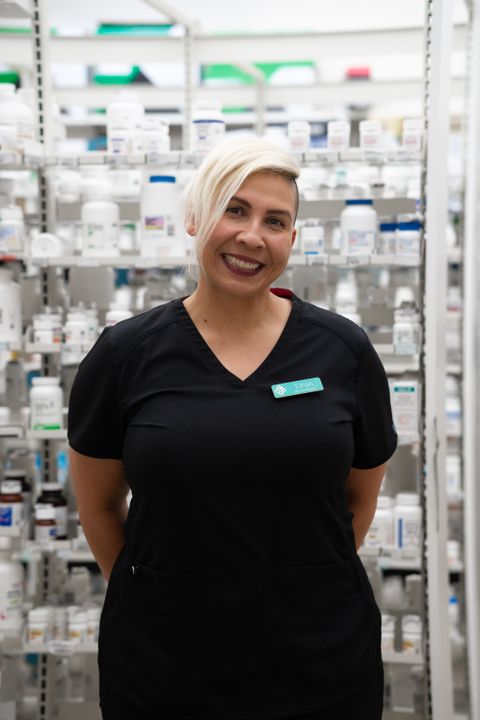 Christina Howell, NCPhT
Christina has been an NCPhT since 2013, working in human and veterinary medicine. She is passionate about pharmacy - saying "I've always loved chemistry and the human body. Learning new things and new drugs keeps me on my feet". She's married to a military member, and likes that the profession gives her the ability to find employment wherever they happen to be stations. She's a mother of two. Her extracurricular activities include working out, playing volleyball, and bowling! She's even coached bowling and has participated in professional tournaments!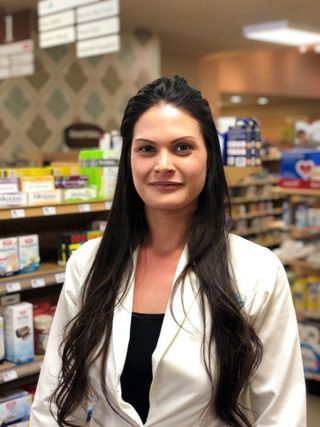 Michele Alvord, CPhT Director of Sales and Marketing
Michele received her A.A.S for Pharmacy Technology in 2013 and began her pharmacy journey that same year. She says, "Helping people comes naturally to me and being part of Parkside Pharmacy's team has really strengthened my skills as a technician. I look forward to continue learning in such an inspiring environment". During her time away from work, she enjoy's spending time with friends, her dog Rosa, and exploring the ever changing midtown Sacramento scene.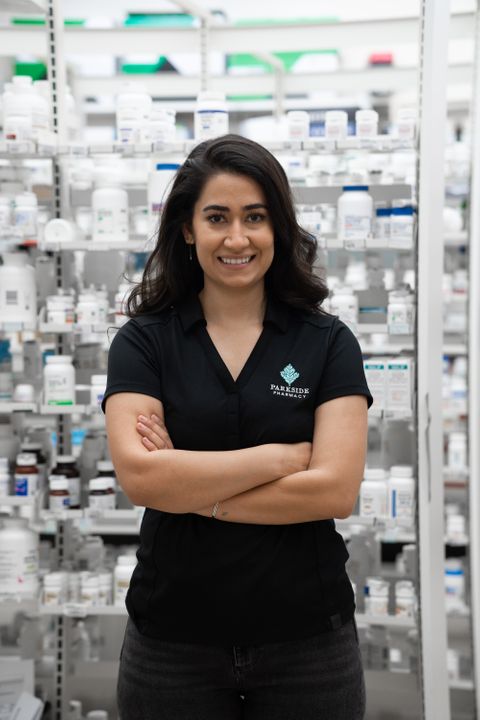 Eema Moravej, CPhT
Eema has been a certified pharmacy technician since 2019. She has a BS in biochemistry from CSUS and is pursuing to become a future pharmacist. Eema is passionate about advancing her knowledge as a pharmacy technician. In her free time she enjoys hiking with her dog and exploring new places to eat.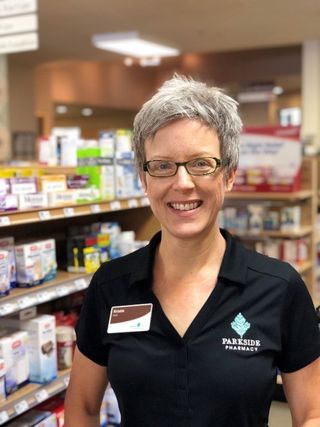 Kristin Bigelow, Clerk
An East coast native, Kristin has been in the Sacramento area since 2000 and joined the Parkside team in 2018. Her favorite part of working at Parkside: getting to know the customers. "I'm so pleased to be able to play a small part in our community's health care and visiting with our customers when they come in is an added bonus." Kristin recently went back to school to study nursing and is looking forward to becoming licensed as an RN later this summer. In her spare time, Kristin enjoys swimming, trying out new vegan recipes, and playing the guitar.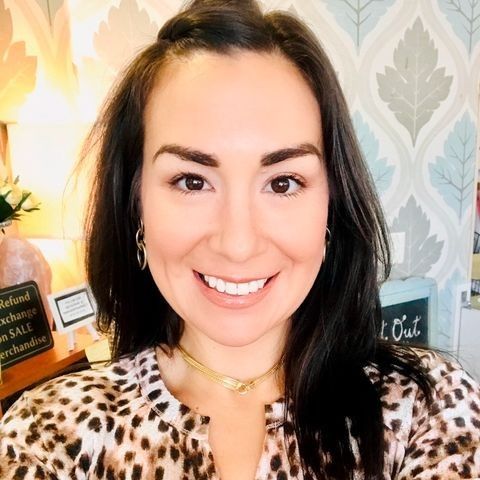 Piper Andrews, Boutique Manager in Charge
Piper is our Gift Boutique Manager in Charge. She has been with Parkside since 2016 and sincerely enjoys helping our customers! She is currently working to attain her BS in Business Administration from Sacramento State. Piper is recently engaged! She thoroughly enjoys spending quality time with family and friends, athletics, concerts, and watching movies!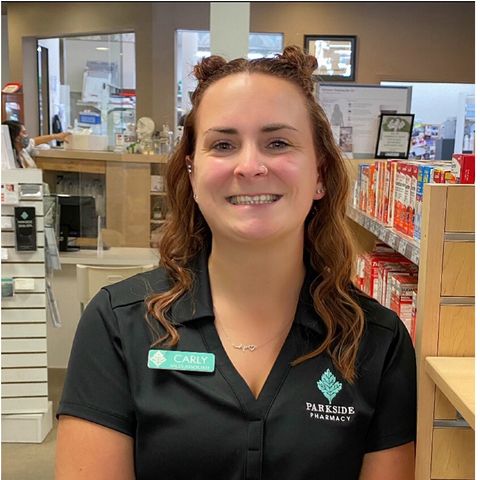 Carly Stewart, CPhT, OTC Manager
Carly started working at Parkside in August of 2020. Carly enjoys learning new things in the field and is intrigued to further her knowledge and eventually become a pharmacy technician. Carly has a BS in Animal and Veterinary sciences from the University of Wyoming and a Certification as a Medical Assistant. Carly enjoys hanging out with her 3 dogs and her family on her time off.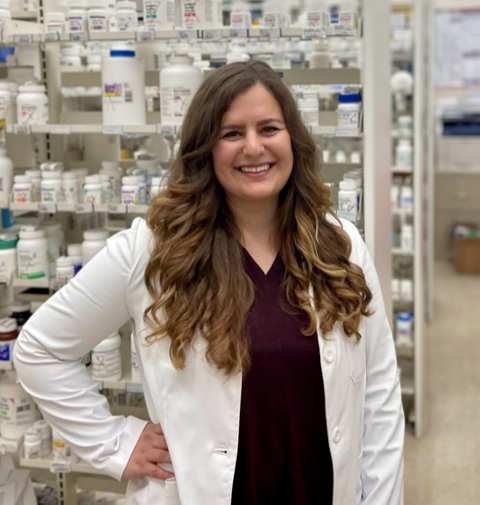 Abigail Daniliuc, CPhT
Abigail is one of the new friendly faces here at Parkside Pharmacy! She obtained her Bachelor's in Biology from PUC and is currently completing her Post Bacc at CNSU. She says, "I grew up in Pharmacy with my mother, brother and sister all encouraging me to "join the dark side"....Pharmacy was my 2020 pivot and I'm happy I made the transition to a workplace that encourages teamwork and genuinely welcomes me like family." Outside of working at Parkside Pharmacy, Abigail savors her time learning new Romanian recipes from her grandmother, kayaking in Amador, working with special -needs patients, and exploring the food- scenery in Sacramento with her 4 -year -old Frenchie Bruno. Her passion for helping people achieve optimal health is tied to her belief of 'life is short, so always eat the cake!'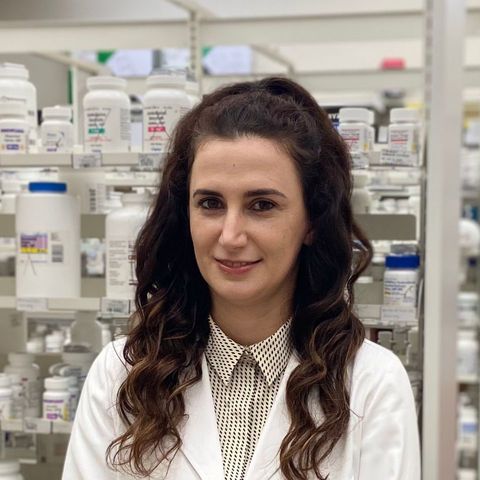 Fabjola Hoxha ,CPHT
Fabjola graduated from pharmacy school in Albania in 2017. Fabjola's goal is to become a licensed pharmacist in the US and is currently pursuing her dreams working towards her career. She has been a Certified Pharmacy technician since 2018 and has a background in retail pharmacy. Her daughter Eki and her husband give purpose to her life. In her free time she enjoys reading, hiking and family- time at the park. Working in pharmacy is my passion and I hope my daughter will see me as an inspiration to become a pharmacist one day too!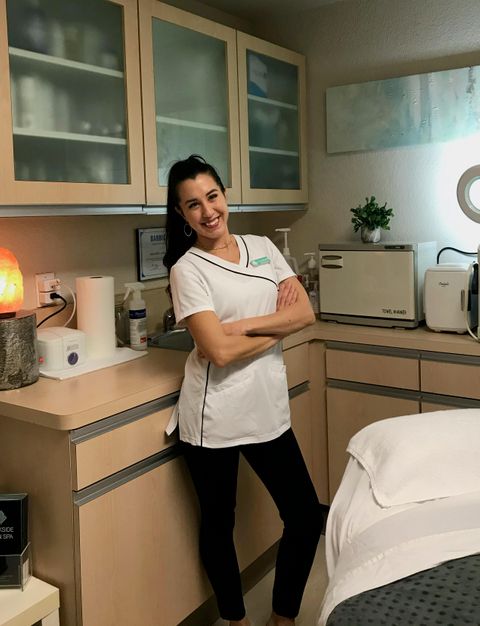 Courtney Coulter, Esthetician
Courtney grew up in the Portland, Oregon area and relocated to San Diego for the sunshine and surf when she was 17. She attended San Diego City College and graduated with an Esthetician license and Associates in Nursing. It's at college where she met her husband! After a wonderful chapter in San Diego, Courtney and her husband picked Sacramento to settle down. They love all the trees and abundant nature Sacramento has to offer. Courtney's personal journey with acne/eczema, and her desire for helping others feel confident in their own skin led her to become the passionate Esthetician she is today! She is A Master Esthetician certified in Jan Marini and Epicuren professional skincare products.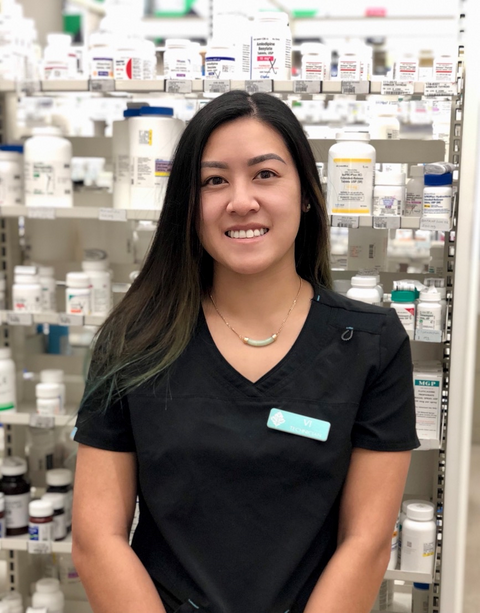 Vi Tranx CPhT
Vi has been a pharmacy technician since 2015. She has been a Compounding technician since 2017 but enjoys doing both duties as a retail technician and compounding. When Vi isn't at work, she enjoys going on hikes and paddle boarding.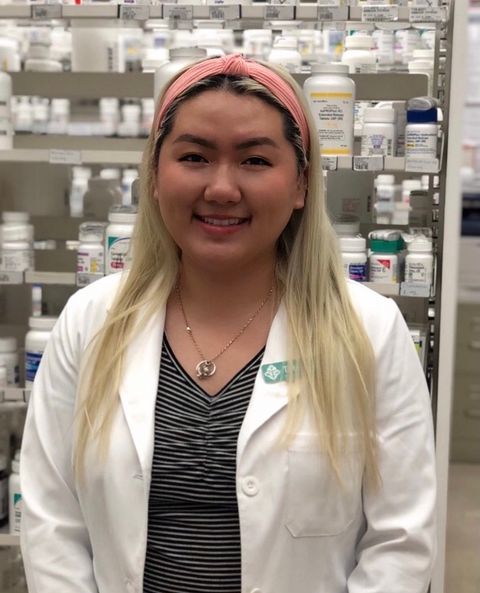 Theresa Xiong
Theresa received her BS in Biohealth Sciences with a Chemistry Minor at Oregon State University. Theresa moved to Sacramento to complete a Post-bacc program and decided to stay ever since. Currently, Theresa is working towards achieving her career goals while gaining meaningful experiences in every aspect of life. During her downtime, Theresa enjoys spending time with her husband and family as well as going on hikes and trying new eats!