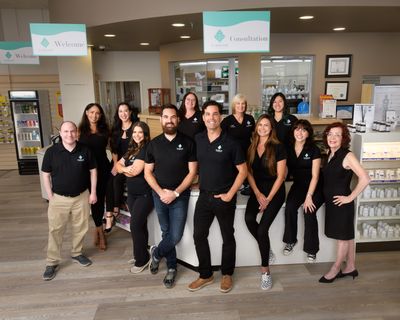 Parkside Compounding Pharmacy has been serving the community of Sacramento since 2009. Being a community staple, we've proudly taken on the role of improving Sacramento's health care by providing fast and personalized service. We strive to make every experience you have with us a great one. At our pharmacy, your family is our family. Our friendly staff is dedicated to ensuring that you receive expert care on every visit. Stop by today and let Parkside Compounding Pharmacy become part of your family.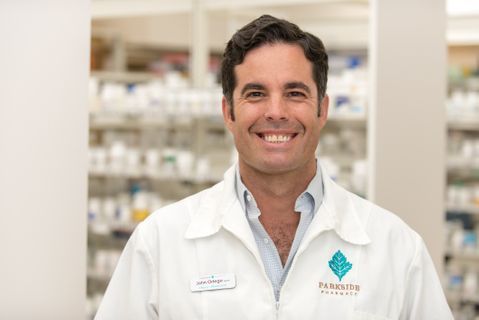 JOHN ORTEGO, PHARM.D PHARMACIST/OWNER
A Sacramento native and 2006 Doctor of Pharmacy Graduate from University of the Pacific, John hopes to carry on in the tradition of the independent pharmacists who served in the Land Park neighborhood before him.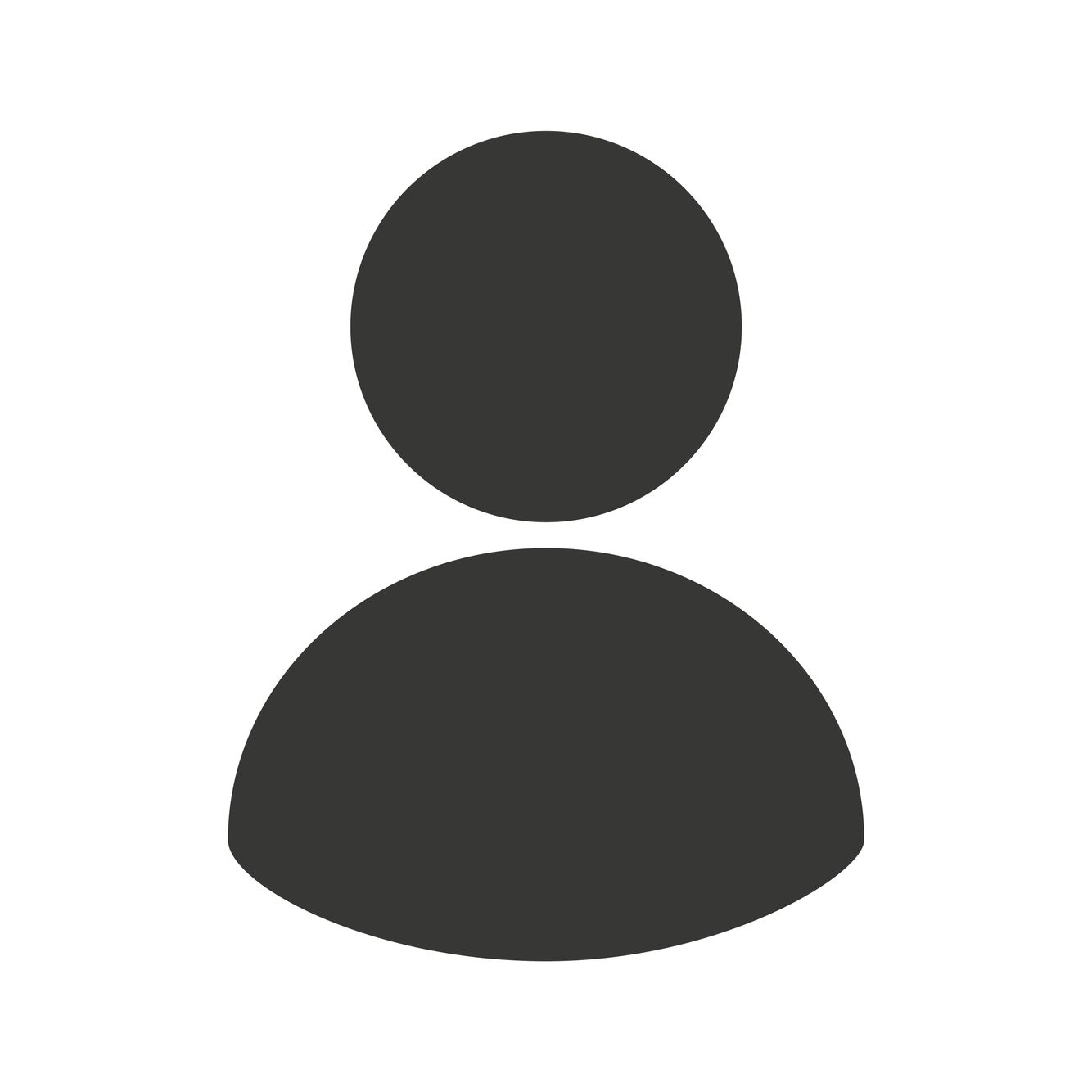 AHMED ALATTAR, PHARM.D
Passionate pharmacist with a love for literature, hiking, and mycology. Balancing a deep knowledge of medications with the tranquility found in books, the thrill of exploring fungi, and the serenity of nature.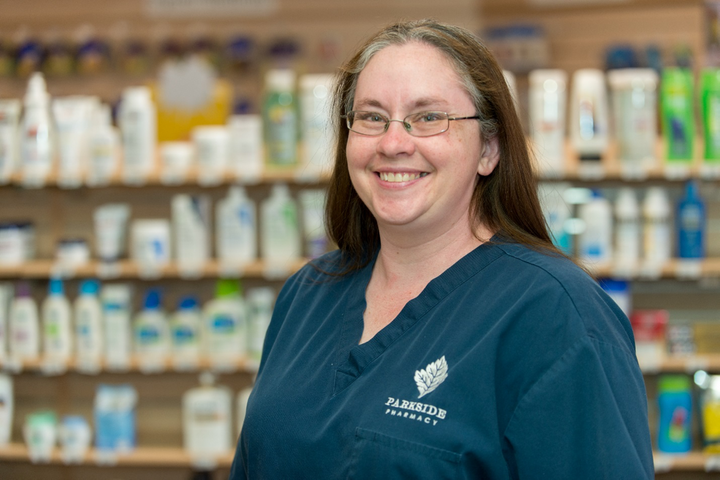 STEPHANIE FARNWORTH, CPHT
Stephanie did a technician externship at Parkside in 2010 and was hired immediately after its completion. Stephanie is our Quality Assurance 0fficer, which makes her responsible for assisting the Pharmacist in Charge with making sure the entire compounding process adheres to the standards detailed in the policies and procedures mandated for PCAB Accreditation. She enjoys compounding "because it gives me the opportunity to continuously learn new and better ways to serve our clients". When not at work, she is busy with her 2 children and Cub Scouts, Girl Scouts, and dance rehearsals.
APRIL GAUTSCHI, NCPHT
April finished her Pharm Tech program in 2009 and started her first compounding job at Grandpa's Compounding Pharmacy. She says "I've been compounding ever since, and I don't want to do anything else". She tried hospital pharmacy for a spell but found compounding was really what she enjoys. On weekends and days off, you'll see April outdoors. She's a runner with several marathons under her belt. April also volunteers her time helping disabled adults. She is our prize jewel from the acquisition of Grandpa's!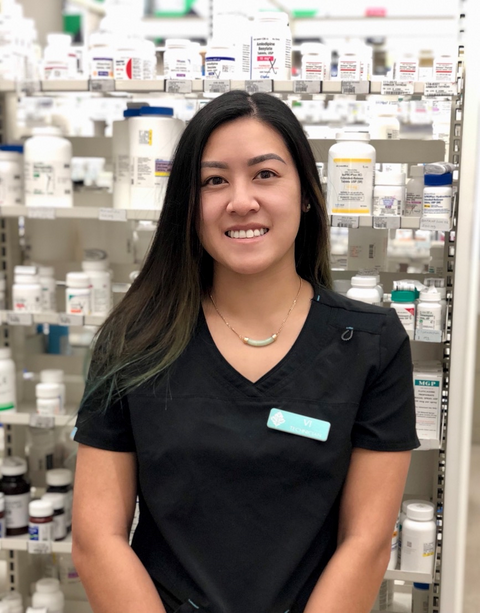 VI TRAN, CPHT
Vi has been a pharmacy technician since 2015. She has been a Compounding technician since 2017 but enjoys doing both duties as a retail technician and compounding. When Vi isn't at work, she enjoys going on hikes and paddleboarding.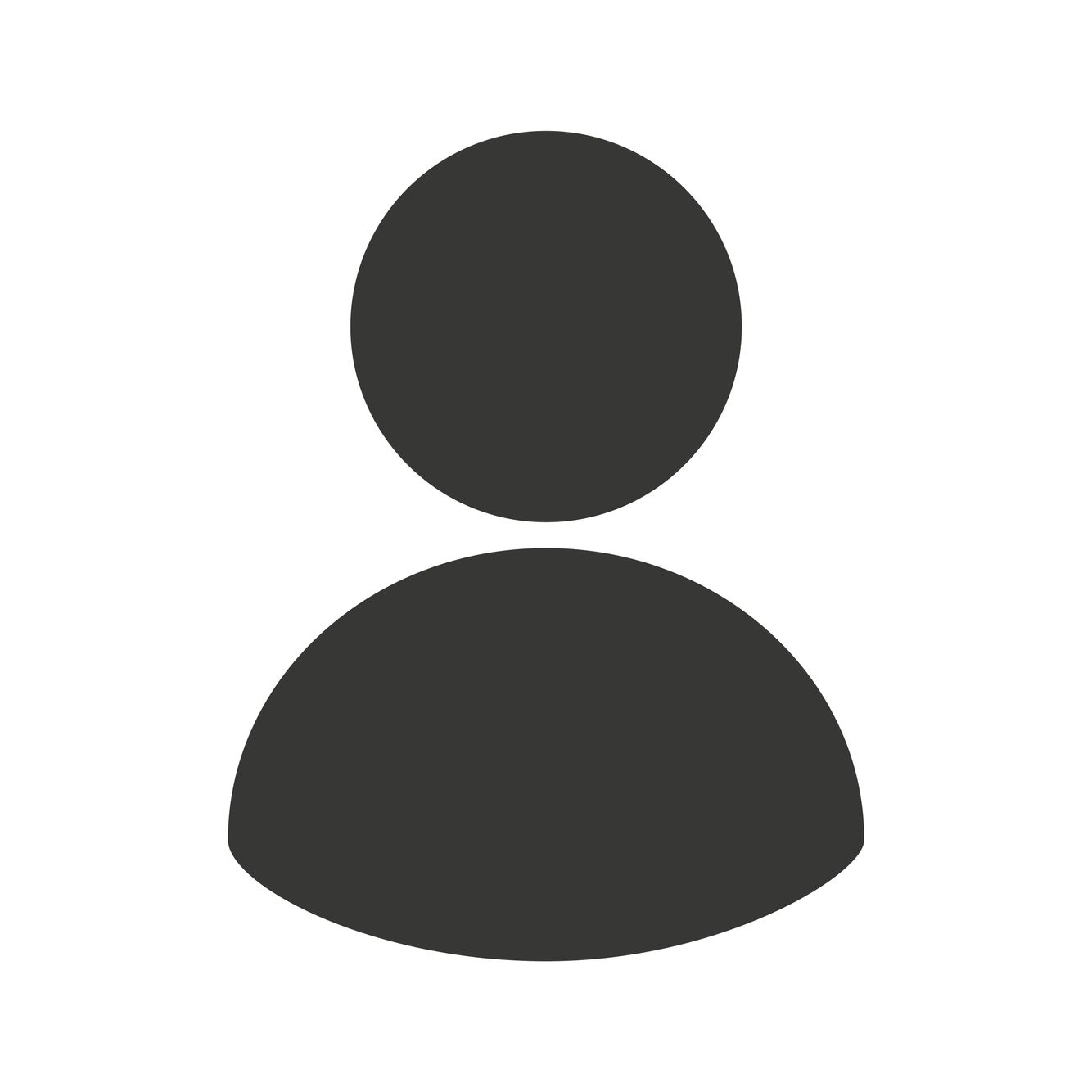 DELANEY MCCARTHY, LAB MAINTENANCE
My name is Delaney McCarthy. In December 2023, I am graduating from Sacramento City College with my A.A. in Interdisciplinary Studies: Social and Behavioral Sciences. In my free time, I like to watch sports and go to Sacramento Kings games. My favorite sports are football and basketball. I am grateful to be a part of the Parkside team and am excited to continue learning new skills! Thank you!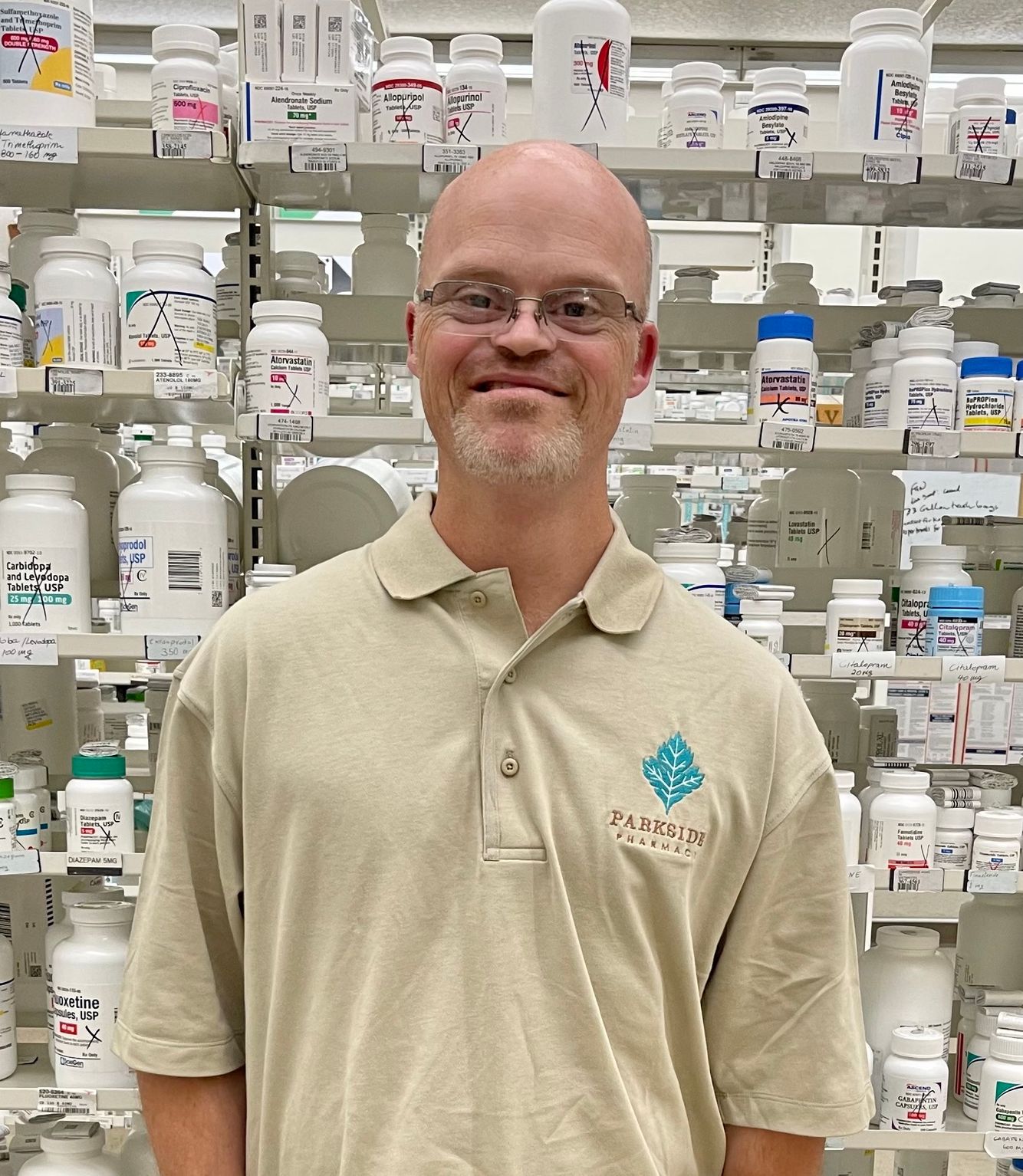 JEREMY MCCARTHY, LAB MAINTENANCE
Hi my name is JP McCarthy I am 40 years old I have been working at Parkside Pharmacy for 11years! I'm so thankful John hired me, all my coworkers are my friends and I love them all. When I'm not working I like to teach kids how to play golf and I like to play myself.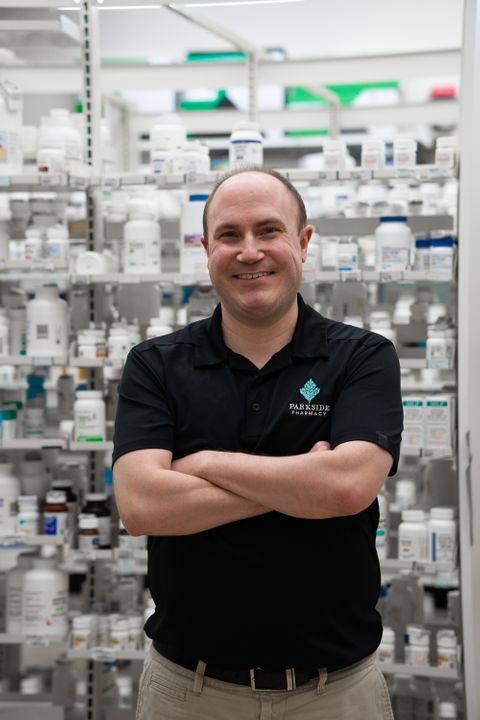 ERIC SANDERSON CPhT, PATIENT CARE COORDINATOR
Eric started as a pharmacy clerk in 2005 at the old Land Park Pharmacy and has been working in pharmacy ever since. He completed his BA in Journalism at Sacramento State and became a Certified Pharmacy Technician in 2010. His favorite part about working in the pharmacy field is "helping to take care of our customers' health and well-being". Eric is also an accomplished filmmaker in his spare time.
MICHELE ALVORD, CPhT DIRECTOR OF SALES AND MARKETING
Michele received her A.A.S for Pharmacy Technology in 2013 and began her pharmacy journey that same year. She says, "Helping people comes naturally to me, and being part of Parkside Pharmacy's team has really strengthened my skills as a technician. I look forward to continuing learning in such an inspiring environment". During her time away from work, she enjoys spending time with friends, her dog Rosa, and exploring the ever-changing midtown Sacramento scene.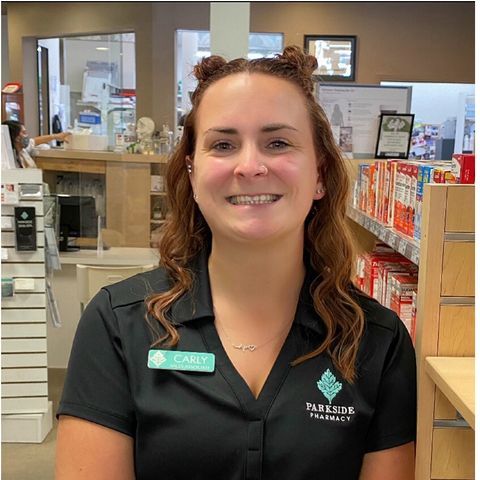 CARLY STEWART, OTC MANAGER
Carly started working at Parkside in August of 2020. Carly enjoys learning new things in the field and is intrigued to further her knowledge and eventually become a pharmacy technician. Carly has a BS in Animal and Veterinary Sciences from the University of Wyoming and a Certification as a Medical Assistant. Carly enjoys hanging out with her 3 dogs and her family on her time off.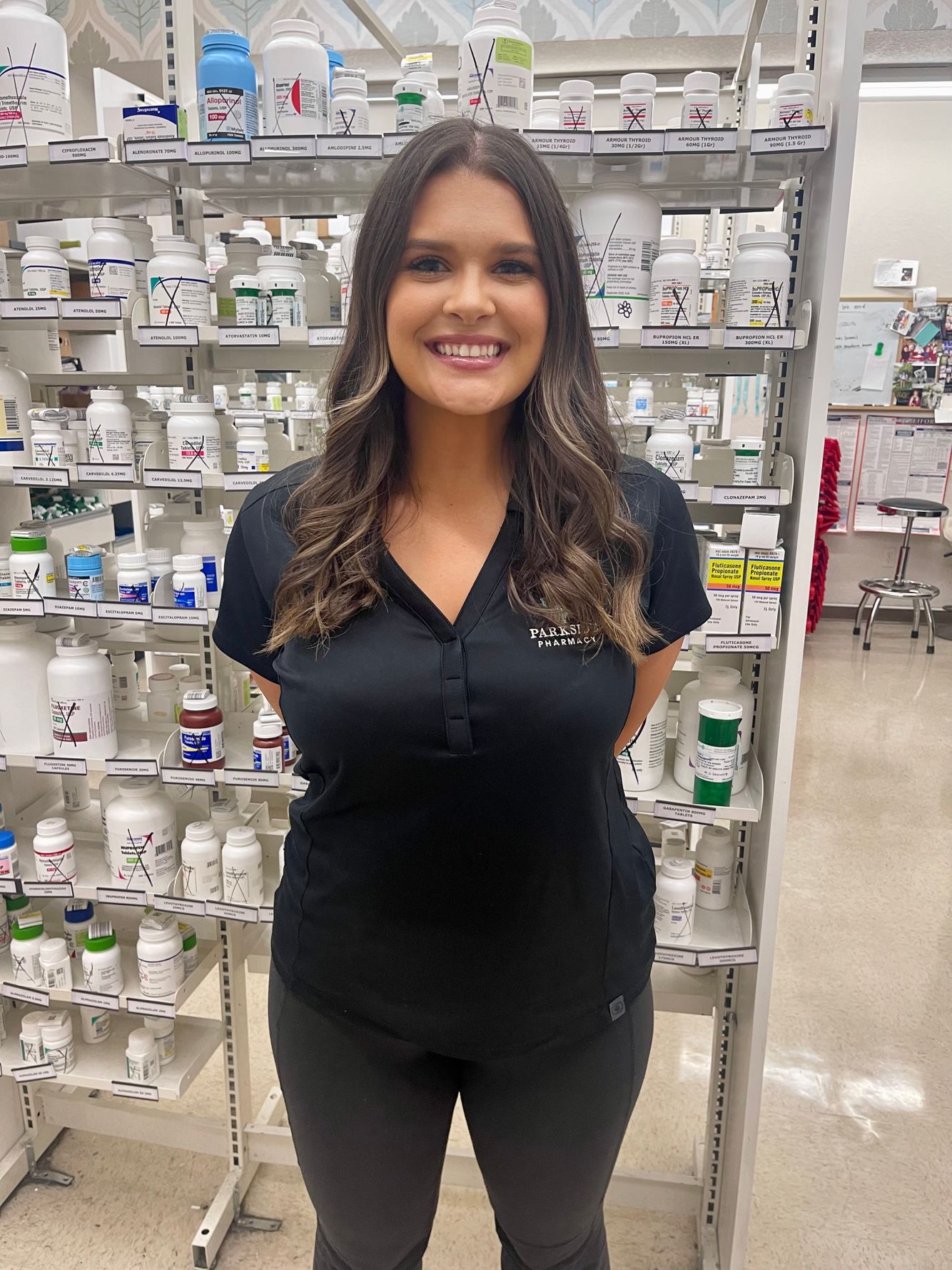 MEGAN GEERTS
Megan was born and raised in Sacramento, CA. She obtained a B.S. in Environmental Science in 2021. Megan has recently switched gears and is interested in furthering her professional career in the world of medicine. In her free time, she enjoys spending quality time with her family and friends as well as traveling and going to country concerts.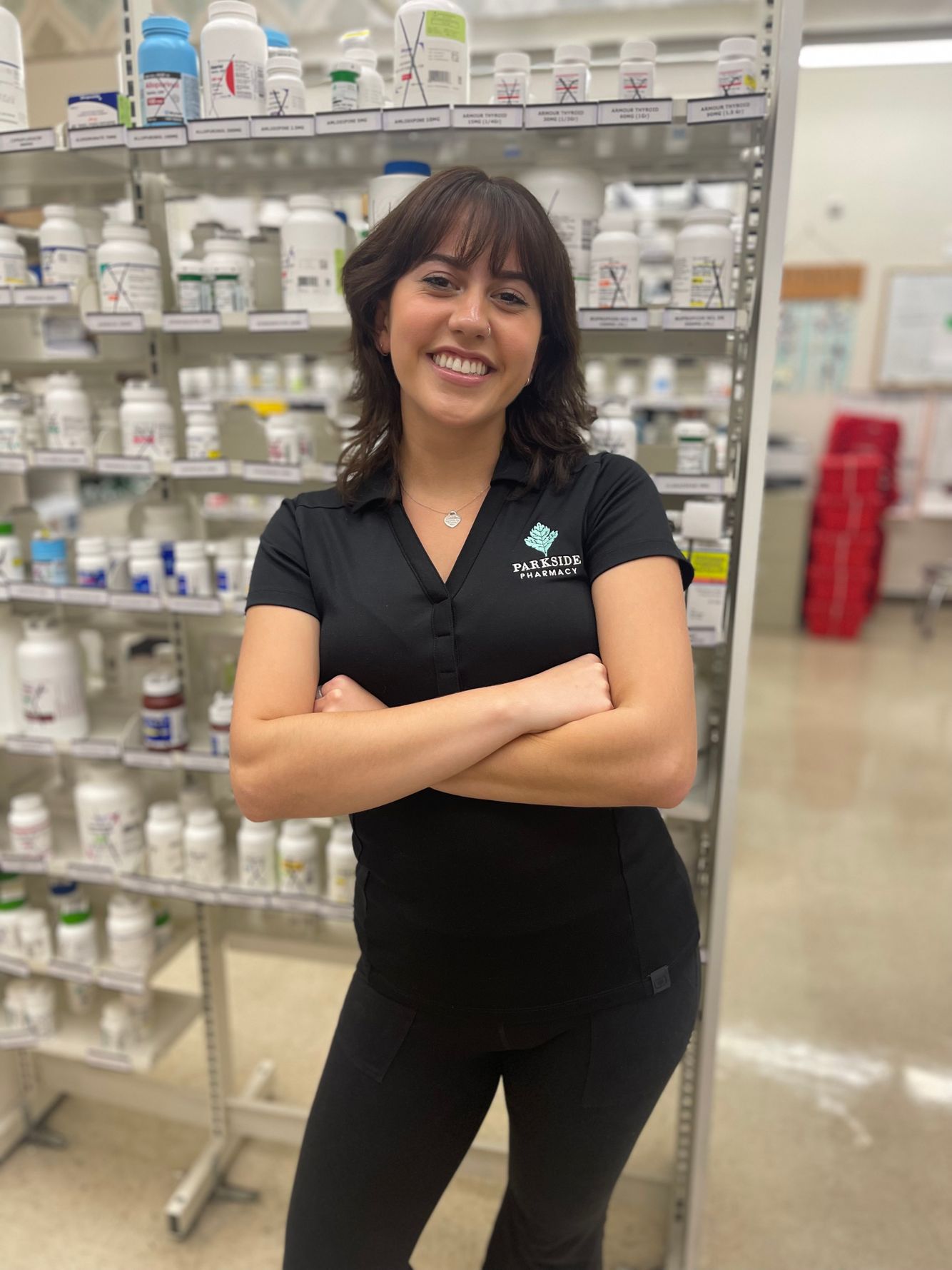 AUDREY BURKHARDT, CPHT
Audrey Burkhardt started working at Parkside Pharmacy in November 2022 and is grateful to work and serve the community she grew up in. This is her first job in a Pharmacy and she's looking forward to growing and developing her skills as a technician. Self proclaimed "girlboss," she enjoys fashion, going to concerts, thrifting, and spending money.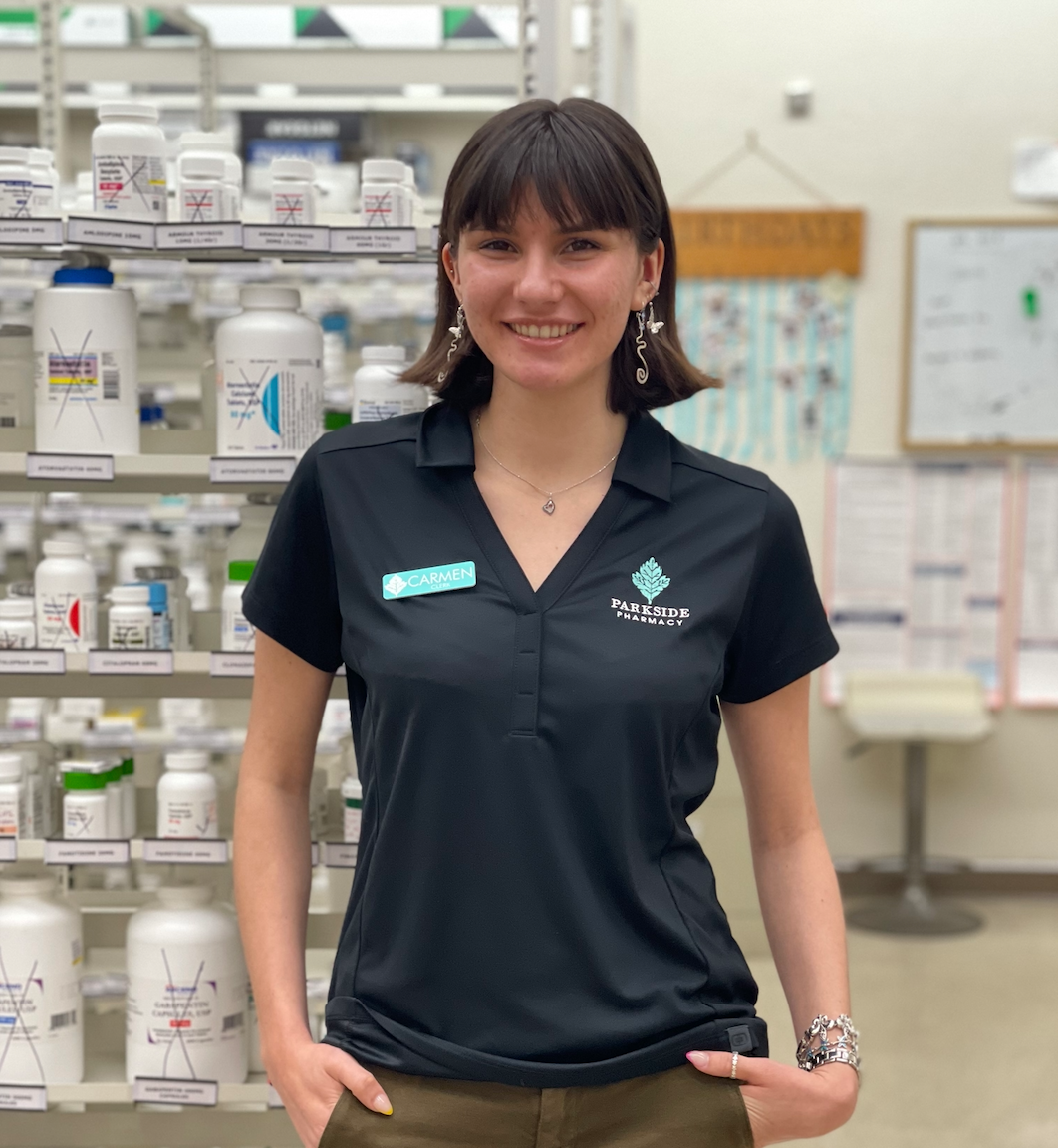 Carmen Singer, Clerk
Carmen is a proud 5th generation Sacramento native, who is currently working towards building her skills and education in Fashion Design at Sacramento City College. This Christian Brothers High School graduate loves being apart of and serving members of her community. She is so happy to be apart of the Parkside team, since August of 2022, where she finds herself making friends with people of all ages. Some of her favorite pastimes include: reading, roller skating, dancing and sewing.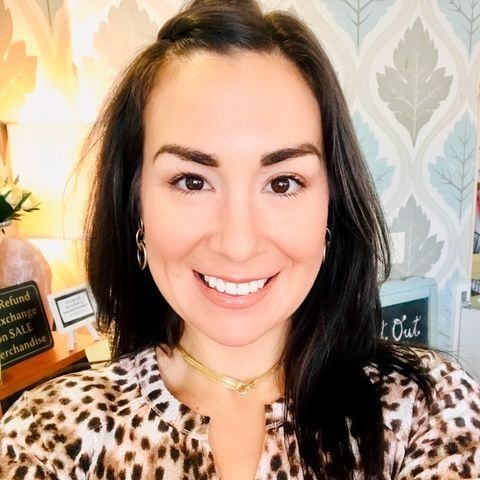 PIPER ANDREWS, BOUTIQUE MANAGER IN CHARGE
Piper is our Boutique and Skin Spa Manager. She has been with Parkside since 2016 and sincerely enjoys helping our customers! Piper recently obtained a B.S. in Management Information Systems, Business Administration from CSU Sacramento. She thoroughly enjoys spending quality time with her family, friends, and her adorable cat!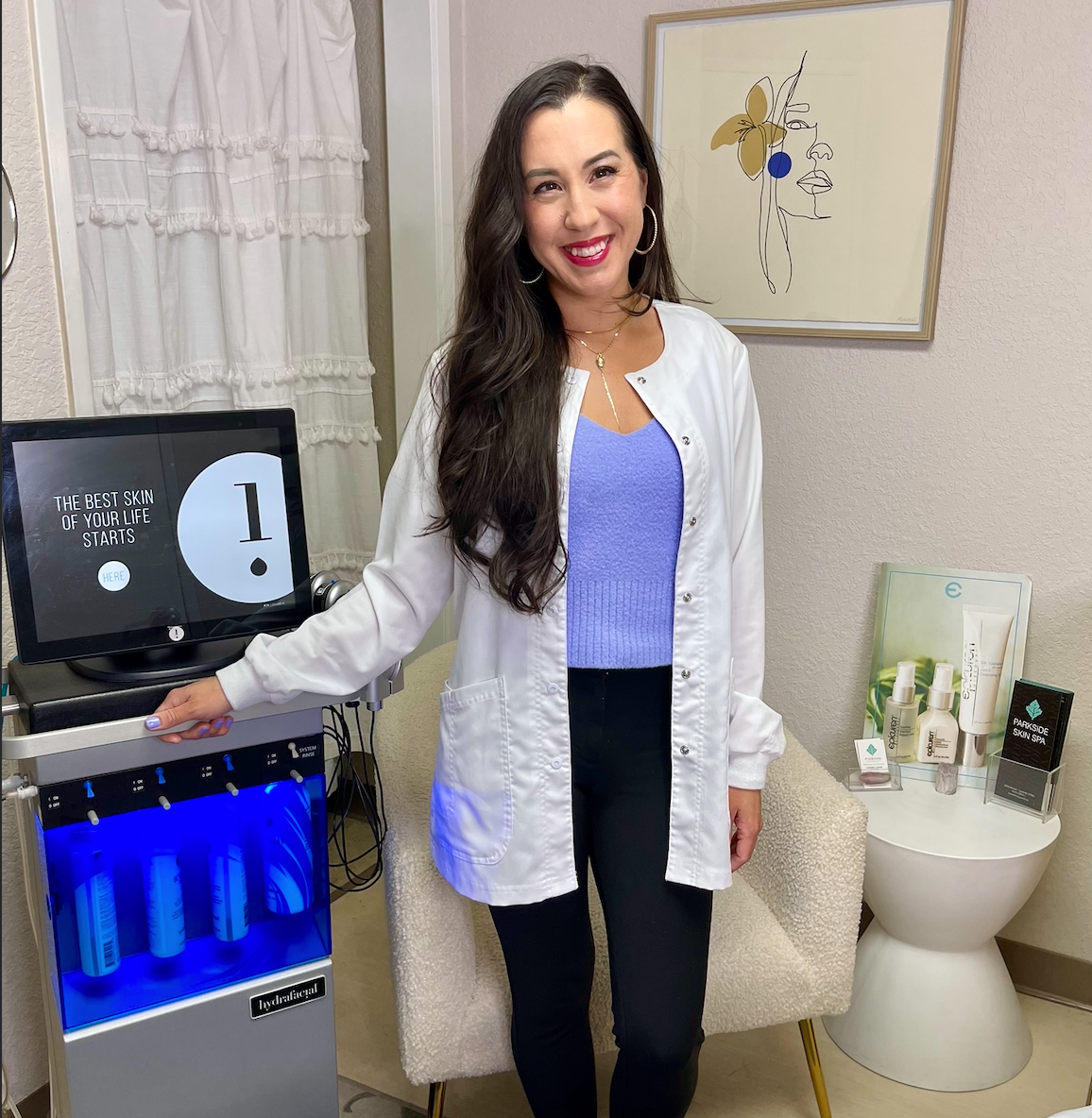 COURTNEY COULTER, ESTHETICIAN
Courtney has been a licensed Esthetician since 2015. Prior to joining Parkside in 2020 she lived in San Diego and was a Regional Corporate Trainer, Spa Consultant and Spa Lead. Before she became an Esthetician she studied Nursing and worked with Doctors in the medical field. Courtney specializes in skin disorders, acne and non-invasive anti aging treatments. Her focus is primarily on skin health and minimizing inflammation. She is certified in the Hydrafacial, chemical peels and multiple skin care lines. Courtney grew up in Washington state and continues to visit often. On her free time she likes to spend time in nature and explore Sacramento with her Husband and dog while they fix up their new home in West Sacramento.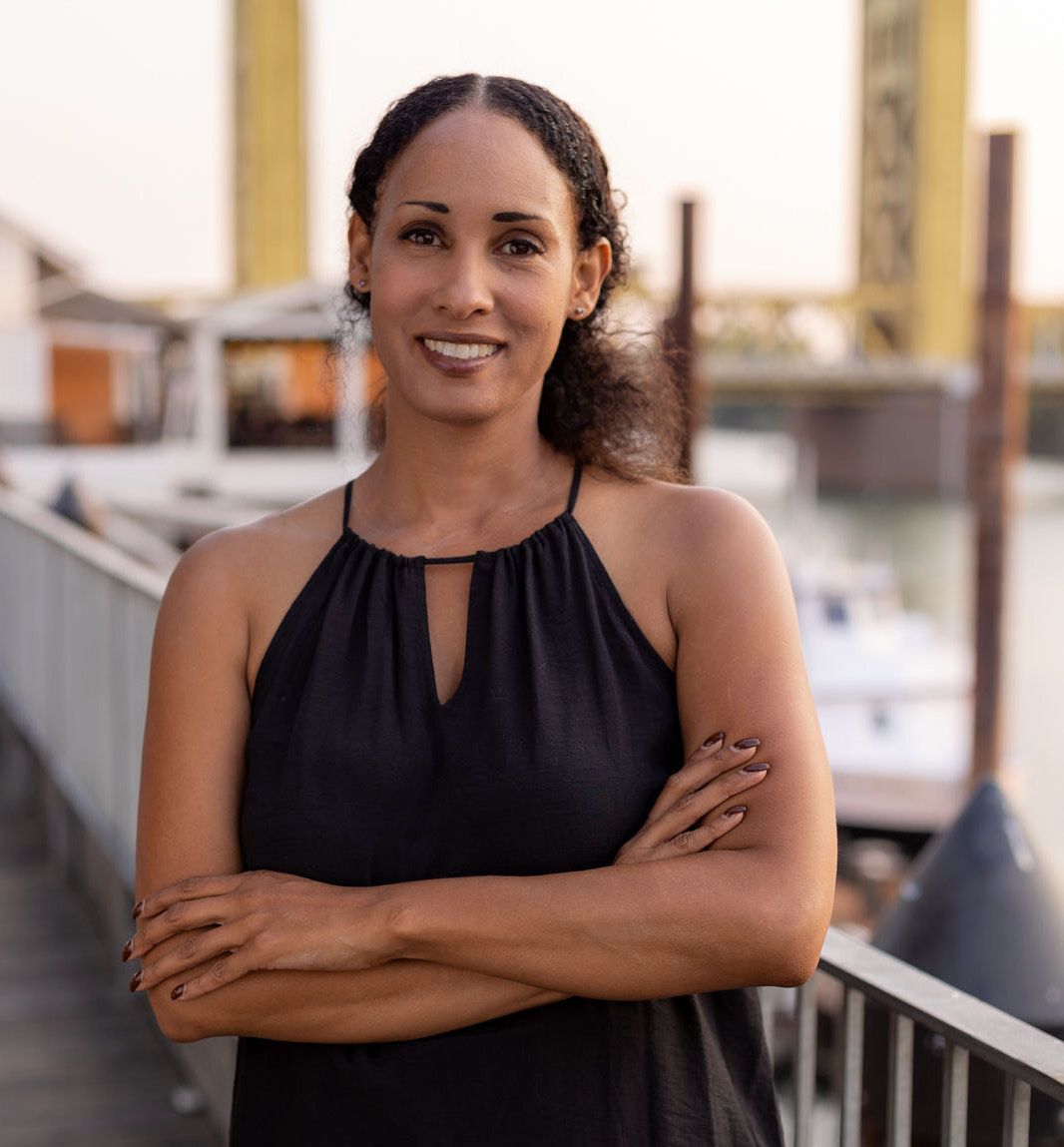 Denielle Davis, Boutique Sales Associate
I have lived in California since 2012. I was born in Washington State. I love Northern California. In my free time I enjoy running, playing with my cats and spending quality time with my Family. I have worked at Parkside Pharmacy since 2021. I am fortunate to work for a long standing locally owned company with such an excellent reputation in the community. I love helping our customers find gifts for their friends and family and even a special gift to treat themselves. I really enjoy helping our spa clients find skin care products to improve the health of their skin and connecting them with our skin spa. I am truly grateful to be a part of the Parkside Pharmacy Team.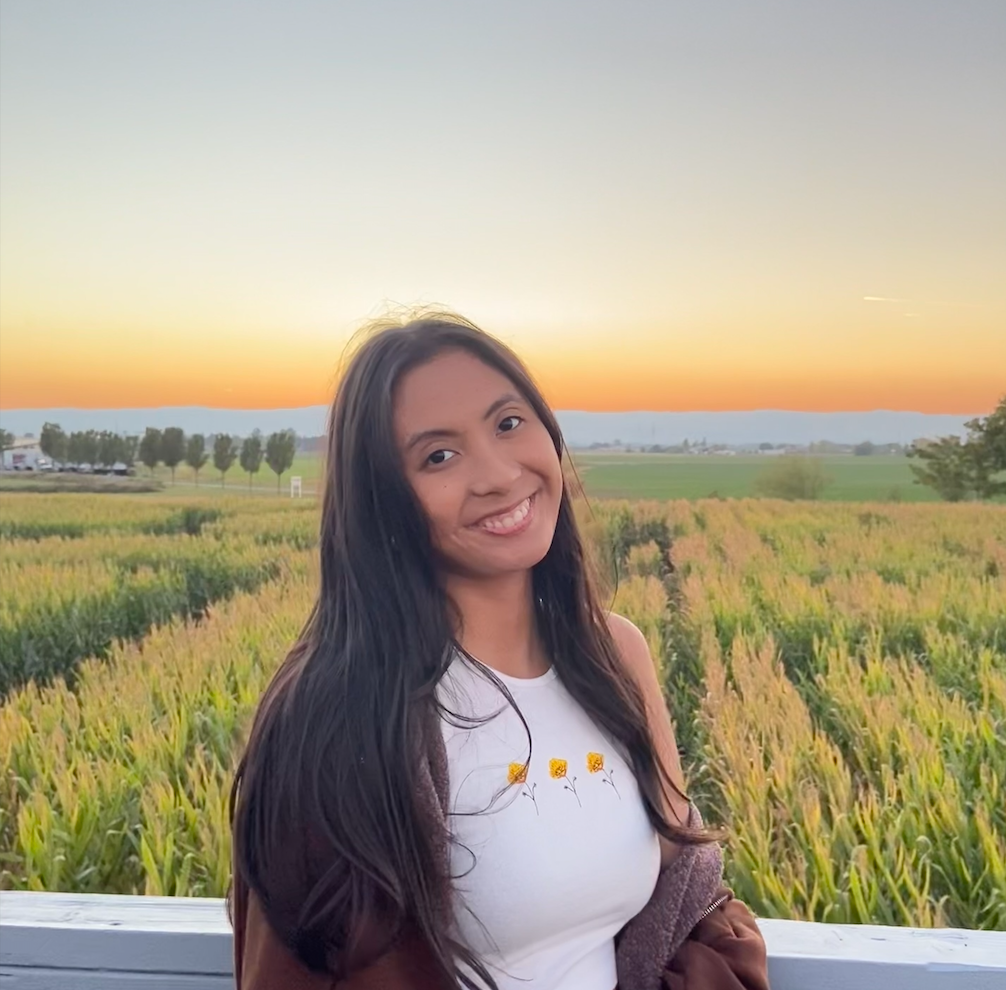 CAMILLE SAPIERA, SOCIAL MEDIA ASSISTANT
Camille was raised in Merced, California and moved here for college at Sacramento State in 2019. She graduated with a BA in Communication Studies and assists with marketing at Parkside Pharmacy! She hopes to continue a career in lifestyle and self care marketing.