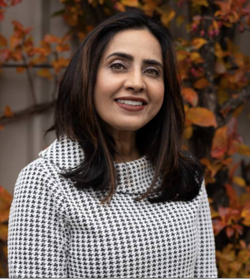 DR. TASNIM KHAN, MD
Dr Tasnim Khan is the co-founder and CEO of ShaMynds™ Healing Center, an integrated medicine and psychedelic assisted therapy practice. She has over 27 years of experience as a primary care physician, integrated medicine practitioner, senior healthcare executive, and academic.
She attended medical school and did her residency training at the University of Texas in Houston, is a Harvard University Master of Science in Health Care Management and studied psychedelic and ketamine assisted therapy at the Institute of Integrative Psychiatry.
Focus and Mission
I feel immensely privileged to be a physician. I value the way in which patients generously share their hearts and lives - entrusting their precious health and vitality to my care.
As doctors, we are given a portal of entry into a patient's life based on trust, truth, and unwavering compassion. However, my almost 30 years of experience in healthcare in the US and abroad has taught me that the current modes of care and our ecosystem are fragmented - thus, limiting the possibilities of change in individual or population-level outcomes.
We are also faced with the additional complexity of an alarming rise in mental health conditions that plague the world. This propagates widening gaps in health inequities and a parallel pandemic of mental health crisis and poor health outcomes. I have witnessed the continued breakdown of a healthcare system that once commanded world respect and is now unable to meet the capacity of our needs.
Recently, I had the good fortune of experiencing alternative approaches to healing that are grounded in compassion and supported by science. Unfortunately, many of these approaches are still not widely understood or respected and they are often challenging for patients to access easily.
At ShaMynds Healing Center, we want to change that.
We commit our practice to 'Holism'— seeing different parts of a patient and how they interrelate along with placing importance on the whole state - a practice embedded within a scientific and safe approach.
I am on a quest to keep my mind open as I continue to personally learn and heal. I respect science, I respect my patients, I respect change, and I respect innovation and the sacred sciences.
2012 19th Street, Suite 100
Sacramento, CA 95818
Phone: 916.538.6498
www.shamynds.com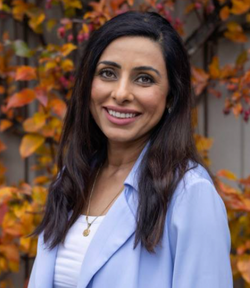 DR. ALYA AHMAD, MD, FAAP
Dr Alya Ahmad is the co-founder and COO and ShaMynds™ Healing Center, an integrated medicine and psychedelic assisted therapy practice in Sacramento, CA.
She is a pediatric hospitalist and former Associate Professor of Pediatrics at UCSF and Director of Down Syndrome clinic in the Sheikh Khalifa Medical Center, an affiliate of Cleveland Clinic in Abu Dhabi, UAE. She completed her medical degree and pediatric residency at the University of Texas Health Science Center and is a Fellow of Primary Care Psychiatry from the University of California, Irving. Dr Ahmad received her Fellowship training in Integrative Psychiatry from the Integrative Psychiatry Institute (IPI) and also from IPI is MAPs, Psychedelic Assisted Therapy, and Ketamine Assisted Therapy certified. Dr Ahmad has her master's training in Narrative Medicine from Columbia University and believes in fusing integrative medicine, narrative arts, and psychedelic medicines to care for patients- human to human.
Dr. Ahmed is an advocate for mental health and public speaker and blogger on the art of healing. She and the ShaMynds team are committed to ketamine assisted psychotherapy and integrative medicine to take care of adults and adolescents with a holistic approach to mental health. Her mantra is healing the self and others with empathy and the respectful fusion of self-wisdom, ancient, and novel therapies.
Mission and Focus
My past is my story. My future is a possibility. The only thing that is real is my present. To be truly present with whatever comes before me.
I am a physician, mother, professor, educator, researcher, and learner (for life). My journey as a healer and medical doctor is focused on treating the most needful populations. I witness the effects of complexity and social disparate conditions has on illness in the US and even while practicing medicine overseas.
I realize our health care system even with its advances has great barriers to true healing. People's health is more digitized and dehumanized than it has ever been. Yet throughout my medical career, I continue to pursue better ways to help children and families in their most needful states.
I am galvanized to prove, be it by academic pursuits or the art of medicine to demonstrate thriving health can be achieved, holistically.
My mantra is healing the self and others with empathy and with the respectful fusion of self-wisdom, ancient, and novel therapies.
2012 19th Street, Suite 100
Sacramento, CA 95818
Phone: 916.538.6498
www.shamynds.com